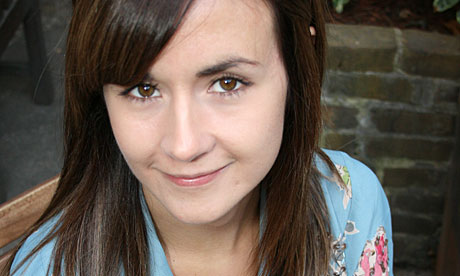 Marsden library has been selected as the very first location by Kirklees libraries for an exciting national scheme dubbed "Reading Regional" which promotes northern writers, and will also involve a well known Holmfirth author Annabel Pitcher, pictured.
Annabel, creator of My Sister Lives on the Mantelpiece ' is guest author at a later session at Mirfield Library on Wednesday April 24, at 7.30pm, and will be worth making the visit from the Holme Valley.  Annabel's moving story deals with the tragedy of a family torn apart by a terrorist attack.
Several local libraries are holding events where audiences will have the opportunity to listen to the author reading from and talking about their books, discuss the books with their authors, buy books and have them signed.
Going back to the first session, this take place at Marsden Library on Peel Street on Wednesday March 6, at 6.30pm with Cassandra Parkin, author of 'New World Fairy Tales' which provides an original take on six of Grimm's most famous works, re-imagined in the rich and endlessly varied landscapes of contemporary America.
Each story is written as a first person interview with a character from a well-known fairy tale: a pig from the Three Little Pigs; one of the dwarves from Snow White and so on. Whilst today these may be known as children's stories, the translation is profoundly adult. Her characters are complex and real and her writing luxuriously rich.
Winner of the Scott prize 2011, Cassandra imagination and fantastic storytelling ability will provide her audiences with a really fascinating insight into her work. Her work has also been published in numerous magazines and anthologies.
The Marsden event is a double bill as part of celebrations for International Women's Day and will also feature Susanna Meese, actor and storyteller providing a funny, comforting, thought-provoking and possibly a little scary experience based on her 'Revealing Women' collection of old tales from the four ages of womanhood.
The event is being hosted by the Marsden Storytailors which is a regular friendly and fun storytelling club who meet regularly at Marsden Library and who will be welcoming anyone wishing to attend. Tickets are £2 and can be purchased on the door. To avoid disappointment, please book a place in advance by contacting Marsden Library on 01484 222555 or email marsden.lic@kirklees.gov.uk
Further planned events include nearby Shepley Library,  just up the hill from Holmfirth, on Thursday May 9, 7.30pm to 9pm
Alison Gangel is guest author and will be talking about her memoir 'The Sun hasn't fallen from the Sky' which depicts skilfully, and without being sentimental or bleak, the dysfunctional family life into which she was born. Tickets £2 at the library hosting the event, or from Kirklees booking office (Huddersfield Library foyer) or by contacting 01484 223200 or visiting the website at http://www.kirklees.gov.uk/townhalls.