Exci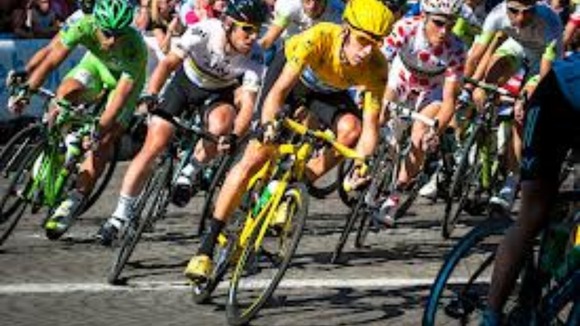 tement is mounting in Holmfirth for the major Tour de France this July as local shops and businesses are being canvassed for their ideas to make it a "La Tour Holmfirth" weekend to remember!
Already favoured is the idea of a Street Market offering a wide variety of stalls.  It is forecast there could be 3 times as many people in Holmfirth as there were for last September's highly successful Food and Drink festival!  Then the footfall was 19,000 so potentially Holmfirth could have 69,000 customers on Sunday 6th July meaning the town would need to be better prepared, more alert and fully ready not only for the big day itself but for the period Thursday 3rd to Tuesday 8th July.
Before the Tour itself comes to Yorkshire, there is the 100-Day Cultural Festival.  Beginning on 27th March, with Holmfirth's busy calendar of Festivals, Exhibitions and Events, which promises to be an exciting time.

In keeping with the King of the Mountain theme, Holmfirth will go "dotty about Le Tour" (Rosemary Crampton https://www.facebook.com/LeTourHolmfirth/posts/10152161757206154).
In other words Red Dots on a White background will be everywhere!  The town could see red and white bunting, red and white flags, red and white floral displays, red and white window displays with prizes for the best in town!
Holmfirth Head, the busy group which promotes businesses and tourism in the Holme Valley, is staging a Kirklees Business Road Show on Tuesday 28th January at 6.30pm in the Full Life Church, Thongsbridge, Mills Miry Lane, HD9 7RW . Which will help answer  concerns and update people with the latest information. Delegates must register at www.kirklees.gov.uk/letour to secure a ticket.
Useful Links for the Big Event
http://www.uksport.gov.uk/docLib.php?doc=Information-Zone/TdFHUB2014_READINESS_REPORT_FINAL_3.pdf
http://letour.yorkshire.com/timings
http://letour.yorkshire.com/road-closures